Fall for this iconic profile in a lowback, modern dining chair.
Inviting curves impel you to touch, sit and linger. Nimble, tapered legs support a bell-shaped seat and curved back rest. The designed angle of the chair slides the sitter into a snug, comfortably curved backrest.
Finish, and wood species customizable.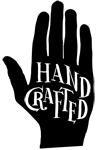 DIMENSIONS: 20″w x 24″d x 28″h
CHERRY: $1,275
DIMENSIONS: 20″w x 24″d x 28″h
WALNUT: $1,475