The heavy, solid form of this 1 3/4″ thick table top contrasts pleasingly with its industrial blackened steel base. Base members splay outward toward the ground, bend and then intersect in an X.
A variety of wood species and finish options for the base (including solid colors) allow for a wide range of options.
All tables built to suit. Finish, dimensions and edge treatment customizable.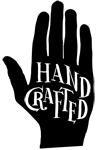 DIMENSIONS: 50″w x 50″d x 30″h (shown)
PRICE: $2,490–$3,000
12 MORAN DRIVE Bldg. 2
ROCKLAND, ME 04841
MAILING ADDRESS
PO BOX 1855
ROCKLAND, ME 04841